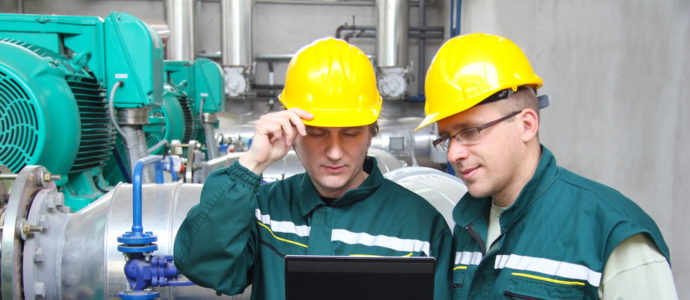 Practeos® provides a set of tools to support your Quality, Health & Safety, Environment, Maintenance, and Human Resources processes, on a daily basis and on the field.
The processes are configured to respect and strengthen the managerial processes of your business. The platform reinforces the concepts of accountability, validation, information and confidentiality, as defined in your business.
The platform is designed to build the momentum needed to achieve your managerial approaches. Important events are reported, tasks, status and priorities are clearly visible, issues and actions are easily followed.
The diagram below illustrates an exemplary process:
A problem is detected by an employee, for example during an audit (risk, defect, non-conformity …).
Responsible persons are automatically notified (depending on the problem type, location, and hierarchy).
One of the responsible manager takes charge of this problem and creates a series of actions to correct the problem.
These actions are then dispatched and responsible people are automatically notified.
Once the actions taken (eventually validated and checked), the risk may be closed.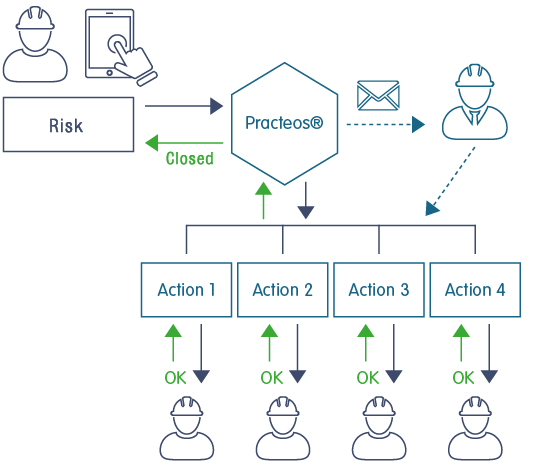 These processes and tools are based on the continuous improvement principles, the TPM ™, and the ISO 9001, ISO 14001 and OHSAS 18001 specifications. Here are some examples of processes available in the platform:
The organization of committees, working groups and meetings
The management of tours and audits
Monitoring and management of actions and action plans
Monitoring and traceability of non-conformities and customer complaints
Tracking and traceability of anomalies and suggestions for improvement
The tracking and tracing risky behaviors and situations
The dynamic risk management
The dissemination of procedures and documents
The hunt for losses and the autonomous maintenance
The disease reporting and the reception of a person on his post
The management of performance appraisals and training requests
We can also develop your custom processes!
---